From Hiring to Firing: Tips and Resources for Every Stage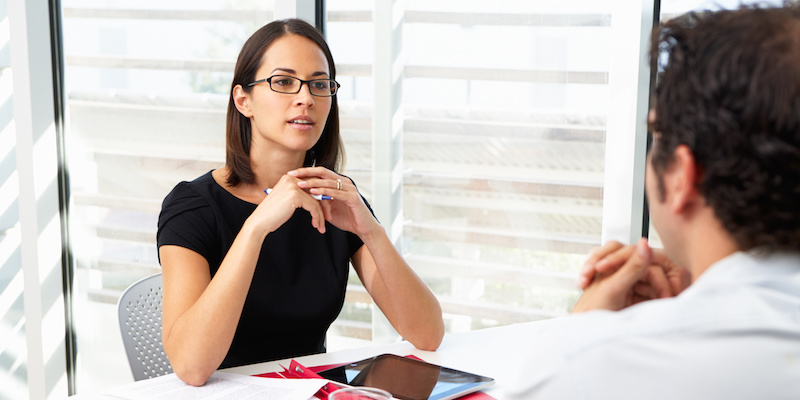 Is your company hiring? These days, the hiring interview process is often team-based, in order to give a broader perspective to both the candidate and the company. Whether it's just a couple positions — or a whole seasonal workforce — many of us are tapped by our management to add recruiting and hiring to our long list of duties.
And — despite having been through the process ourselves, as candidates — there can definitely be a learning curve when it comes time to sit on the other side of the table. We're here to help.
This week we take a quick tour through the lifecycle of recruiting, interviewing, hiring and rejecting candidates (and even letting them go, when business needs change), including hiring.
If you're looking for ways to up your interview game — or for guidance on how to write those rejection emails you've been putting off from the last round of candidates — these articles are perfect for you.
The Pros and the Cons of Internal Referrals
How does your business find new candidates? Chances are, referrals by existing employees play a significant role in recruitment. Recent research indicates that 78% of recruiters — across all industries — use internal referrals as their top source for finding candidates, states Alice Truong, senior correspondent for Quartz. In her article "More Proof That When It Comes to Hiring, It's Who You Know That Matters," she debates the pros and cons of this practice.
Internally referred candidates are highly favored by many businesses because they come "pre-vetted" by employees who already know the culture and, if hired, they tend to stay longer with the company, according to Truong.
But there's a not-so-hidden downside to such a heavy use of referrals from successful employees. These employees choose people much like themselves, which makes opportunities to increase the numbers of underrepresented minorities more challenging than ever. As many companies are looking to increase diversity, this presents a real problem.
But there are creative ways to address this challenge, says Truong, and she wraps her article by offering ways some Silicon Valley companies are doing just that. If your business relies on internal referrals to recruit staff, you'll want to check this article out.
The Best Interview Questions
Every company is looking to hire top performers. But when faced with more candidates than time, how can you be sure your interview process is setting you up to discover them? In their article "Hire a Top Performer Every Time with These Interview Questions," management company First Round has you covered.
First Round cites research by business trainer Kristen Hamilton who — after years of placing job candidates and measuring their successes — was able to reverse-engineer what makes high-performers so successful. And it's not a brand-name college, a high GPA, or other traditional markers of performance.
Hamilton has isolated seven key traits — such as grit, ownership and curiosity — and has created a hiring rubric for teams to follow to find and hire those candidates that score highly in these areas.
This is a meaty article that goes in depth into each performance trait, its impact to the business and, best of all, what exactly to ask in the interview that would uncover whether a candidate has it.
As a bonus, it even offers tips to streamline your interview process with a skills rubric and standard measurements. This one is can't-miss article on how to identify high-performers and to sharpen your entire interview process.
The Pros and Cons of Video Interviews
Does your team use video interviews in its hiring process? We don't mean live interviews via video (although that's a great idea too), but asking candidates to record themselves answering specific interview questions for you to evaluate later.
If you do, you're in good company — a recent survey shows 60% of companies do as well — and Falko Brenner, Head of Research and Analytics at the German-based company Viasto, has some best practices and advice for making this practice a success.
Brenner's article "The Impact of Video Technology on Employment Interviews" acknowledges both the advantages and drawbacks, and offers advice on how to tip the balance in your favor. Advantages range from avoiding scheduling and time-zone nightmares — which can plague remote teams looking to expand — to eliminating the burden of live interaction to overworked evaluators.
But the pre-recorded nature of the interview answers brings its own downsides — in the form of perceived distance. This psychological (not geographic) distance can result in evaluators judging responses, and the candidate, more harshly than they would have when face-to-face.
Brenner finishes with good advice on how to integrate pre-recorded videos into the overall interview structure (for instance: use it for initial screenings for basic requirements). If pre-recorded video is part of your hiring pipeline — and its popularity seems to be growing — then you'll want to give this a read.
Delivering Bad News with Grace
If you've ever had to tell a candidate they were no longer being considered for a position, you may have struggled for the right words. Or maybe you yourself have been on the receiving end of a rejection email that was "cold, robotic, and shrouded in mystery." If so, "4 Tips for Humanizing Your Rejection Letters," by the software company Lever, is for you.
Lever focuses their four tips on how to sound compassionate instead of cold, and how to keep a professional tone without sounding like a barely-customized template.
For example, they advise — as a bare-minimum concession to using a template — identifying a strength that the candidate displayed during the interview process. This personalized compliment reminds candidates "of their worth at exactly the moment they could be doubting themselves most."
Best of all, the article offers sample phrases to inspire your own wording, and specific reasons to back up their recommendations.
If you've been stuck with lifeless templates as your previous guide, this is a welcome help to make delivering bad news a little easier for both sides.
Letting Good People Go
Good employees don't always remain a good fit for the team, especially when business needs are ever-changing. Being a team leader unfortunately does come with the responsibility to occasionally transition members — even good ones — out of the organization.
If the very thought fills you with dread, take heart.
Pat Wadors, Senior Vice President Global Talent Organization at LinkedIn, is full of practical advice in her article "Letting Good People Go When It's Time," for Harvard Business Review.
Your job is not only to make the transition happen, says Wadors, but to make it as smooth as possible. One key tool for this is giving regular feedback along the way so skill gaps and problem areas are never a surprise. Another is to be specific in the performance you're expecting to see, so that there's mutual agreement on what the target is.
But if it's really time to part ways? Wadors has a plan for that, too, as well as advice for continuing to communicate well with the rest of the team that stays. It isn't easy, as she says, but this is as gracious a blueprint as one could ask for.
Navigating the end of the job cycle can take as much care and strategy as the beginning. And if you approach it thoughtfully, you can manage it as successfully and smoothly as possible.
After you hire new team members, get them up to speed as fast as possible! One new hire cut onboarding time from 3 months to 8 hours with Redbooth. Find out how >>