Looking for Teambox? Read on to find out how Teambox became Redbooth project management and collaboration software in 2014 — or head right to the very latest 2016 updates!
Welcome to Redbooth!
Let me start out by saying that while there's a new brand name on the website, and a new version of our collaboration platform available, the team here remain as focused as ever on our goal of providing a single place for teams to collaborate and get work done. The $5m we raised at the end of 2013 has helped strengthen the company, and this update to the platform is the first of many positive changes we plan to deliver in 2014.
Why change the name?
Good question. During 2013, as we started to see our product adopted by larger organizations, deepened communication with our customers, and talked in more depth with industry analysts, it became clear that we had outgrown our name in two ways:
First, the "team" designation, while relevant for many of our use cases, made others think we were limited to small team collaboration. Our own internal experience with the product, along with those of much larger customers, made us realize that we were doing the platform a disservice by limiting it to "teams" in its branding. While Redbooth (as we now call it) will always be a fantastic tool for teams, the product has evolved to be a great fit for larger departments, divisions, and indeed entire organizations.
Second, the word "box" in "Teambox" was also causing confusion. With the continued rise of Box and Dropbox (both of whom we integrate with) some people started to think of Teambox as a storage solution. Storage is a very necessary part of doing many jobs, but it's only a small part of the equation. While we provide native storage on the Redbooth platform, users can also opt to collaborate around documents stored in Box, Dropbox, and Google Drive.
Hence the birth of Redbooth, a brand we believe better reflects the goals and aspirations of the company. The iconic British red telephone booth represented a readily available, affordable, scalable, efficient way of collaborating and communicating – all things that Redbooth delivers on in the current web era.
Feedback from our beta testers has been phenomenal, with comments including:
"I'm thrilled to see the roll-out of so many new improvements, and am looking forward to additional Redbooth features that will help us better manage our projects and teams moving forward", Edita Rodriguez, Director of Client Services, Clever Girls Collective
"Just wanted to let you guys know I'm digging the new UI online and on mobile. Keep up the good work", Jacob Green, Software Developer, Hemsaw
The philosophy behind the new product
A big theme of the new Redbooth is "more". Activity has skyrocketed on the platform, and our users now need better tools to collaborate with more people, across more projects etc.
The overall application navigation has been redesigned, with much more use of top navigation, for example:

---
Moving these commonly used elements to the top nav has also created more space in the left nav, which is very helpful for those users with a large number of projects (a common request in the past).
"More people" is another example of where the application's UI has been re-factored. There was lots of unnecessary scrolling in the old version of Teambox, whereas Redbooth tackles this differently. As you can see in the screenshot below, managing project members is far easier. You can now see many more users on one page, you can filter for the user you're searching for, and inviting additional users is easier than ever.
---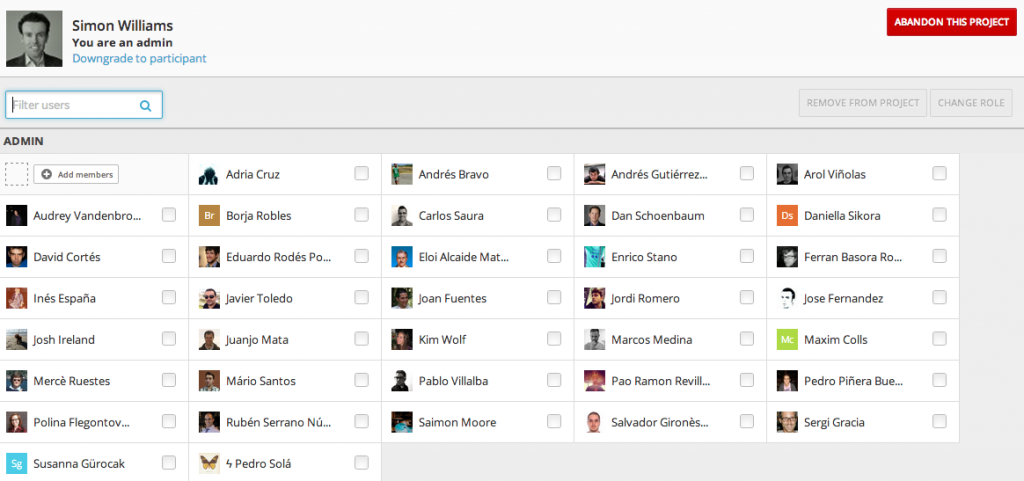 We are working on tablet solutions for both iOS and Android, and will let you know as soon as these are available.
Change is hard – but we're here to help
Let's be honest – change is always hard. With the launch of Redbooth we're trying to make the change as seamless and easy as possible:
While Redbooth is available immediately (simply click "Try Redbooth" in the app) you will be able to continue to use the old version for some weeks to come.
We'll make sure to communicate with all our users well in advance of switching off the old version.
All your data (projects, files etc.) is available in either version, so you can switch between the old version and Redbooth to make the process easy
We have expanded our support team to try and make sure that existing customers are more satisfied than ever, and we're primed for your questions.
A new help section is available on the website
---
To close, let us say a huge, sincere thank you from all the team at Redbooth. Here we all are at a recent company meeting in Barcelona:

The Redbooth Team in Barcelona, Nov 2013
We also recognize that the job isn't done. The new Redbooth platform is a great, positive step forward, but we're continuing to focus on making Redbooth better. We want to be the world's leader in workforce collaboration, and your continued feedback is always welcome.