5 Essential Project Management Books For Everyone
You don't have to be a project manager to manage projects — in fact, most people who manage projects have other job titles. Common sense and a clearly defined goal can take you far. But can it take you far enough?
Even if you're not officially a project manager, you can benefit from a crash course in project management principles, especially if it will help you be more efficient and keep projects on track. With the help of librarian Jenna Mayotte, we've rounded up a project management book for just about everyone.
Find the book that matches your personality style:

1. For the Big-Picture Thinker Who Likes Timeless Classics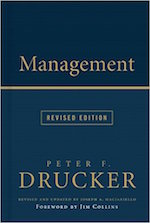 Peter Drucker's oft-referenced (and revered) classic, Management, is about big-picture thinking rather than to-do lists and deadlines. You're going to get theory, history, and background about management broadly considered — along inspiring concepts like the value of "integrity of character."
While it's not specifically about project management, it's a reliable, respected, and accessible foundational work that can set the stage for the tactics of managing projects.

2. For the Methodical Manager Interested in Project Management
If you're looking for an entry-level view of the field, and don't want a book with "for Dummies" in the title, Project Management: Absolute Beginner's Guide by Greg Horine may be a good bet.
Written by a Project Management Professional (PMP), you'll find guidance on successfully executing your first major project, as well as an introduction to the entire field of study. It's an especially good fit if you're already an organized, methodical thinker.

3. For the Scattered Multitasker Who Wants to Consolidate
If you're truly overwhelmed, it may not be strategy or project management best practices that you're looking for — maybe you just need to tame the chaos so you can catch your breath!
David Allen's Getting Things Done is popular for a reason: It helps people take the seemingly endless parade of thoughts, reminders, ideas, and to-dos out of their brain and consolidate them into a manageable system. After you implement GTD, then start you'll have the mental bandwidth to pick up another one of the books on this list!
See how one writer combined Getting Things Done with another organizational approach for the ultimate personal productivity system >>

4. For the Business-Oriented Strategist Who Prefers Multiple Perspectives
If you enjoy Harvard Business Review's engaging, substantive articles, then The HBR Guide to Project Management could be for you. While one reviewer cautions that you may outgrow it quickly, for someone new to managing projects, this handy volume is a great place to start.
With a variety of contributors, you're going to get interesting perspectives on a range of topics — chapters include "Dealing with a Project's 'Fuzzy Front End,'" "Why Good Projects Fail Anyway," and "Performing a Project Premortem."

5. For the Internal Change Agent Who Needs to Herd Cats
Even the best project management methodology is useless if you're getting frustrated herding cats — and you can't figure out how to get people moving in the same direction towards a common goal.
Fortunately, Leaders Eat Last: Why Some Teams Pull Together and Others Don't, by Simon Sinek, is a short, easy read, filled with great examples and advice to be kind and empathetic in your dealings with humans. (No time to read yet another book? Catch the highlights by watching Sinek deliver his message in a top-rated TED Talk.)

Do you have a favorite project management book (or related resource) that we didn't include here? Tell us about it in the comments.