5 Collaboration Lessons From Partnerships Gone Terribly Wrong
Avoid These Failed Collaborations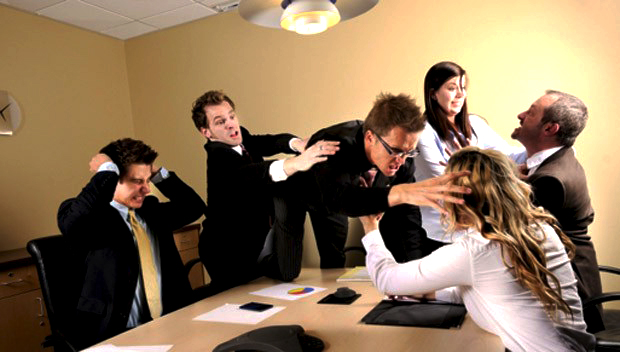 Oh sure, everyone loves it when a plan comes together.
With successful collaborations, the rewards are great, the high-fives and back-pats are plentiful, and you can go to sleep at night knowing that your team did a fantastic job.
But then there are the times when, in spite of valiant efforts, an attempt at teamwork goes down the toilet. Take a look at some of these famous failed collaborations, and the lessons we can learn from them:

Communication – Talk to Your Teammates
Communication is key for a successful collaboration.
Just ask any player on the 2013 Saint Louis Cardinals (National League champions) baseball team who competed in the World Series. It was Game 1 at Fenway Park, and pitcher Adam Wainwright and catcher Yadier Molina were poised on the field, ready to catch a pop fly by Boston Red Sox's Stephen Drew.
In just seconds (that seemed like hours), the two players watched the ball hang in the air and then descend toward them. They shifted their gaze from the ball to each other, both expecting their teammate to make the catch.
And then the ball dropped – thud! – smack dab in between them and onto the field while the crowd watched in a stunned silence.
Lesson learned? Speak up, take responsibility and call for the ball!

Collaborating with Good Intentions? Know Your Official Role
What happens when you get two scientists together without a formal agreement in writing?
Horrible chemistry, as detailed in the article, "Collaborations: with all good intentions," by Heidi Ledford, Nature.com. As detailed in the story, biologist Paul Weldon and chemist Andrew Evans collaborated in a complicated scientific project that involved isolated compounds and samples of bovidic acid. Sound complicated?
It was. The two ended up feuding over who owned the samples, and which direction they should take the research. Lawsuits ensued, leading us all to learn this: make sure your collaborative roles are defined, officially and in writing.

Pay attention. Know Your Collaboration Partners.
Aleem Walji, director of the World Bank institute's Innovation Labs, regularly touts the importance of recognizing and de-stigmatizing failure.
As a speaker for the 2012 FAILFaire in Washington D.C., he referenced an unsuccessful collaboration with Google and its Map Maker program.
In January 2012, the two companies formally announced a partnership, focusing on improving disaster preparedness and development efforts in countries all over the world.
But development experts criticized World Bank for the agreement, citing the fact that Map Maker didn't allow free data access to users. One month later, the Bank announced a change of direction, including its support for open-source mapping programs. Lesson learned?
In the words of Walji, he advised to "… not get overly excited about the prospect of working with a big sexy company [like Google] before reading the fine print."

Collaborate with Others Who Share Common Goals
When AOL and Time Warner teamed up in 2001, it seemed as though nothing could go wrong.
The collaboration would bring the Internet and mass media into one unified business force, ready to take on the world! Unfortunately, it was not to be a smooth road ahead.
The dot-com boom would soon bust, and while high-speed broadband connections became the wave of the future, AOL refused to give up its dial-up Internet access. But even worse, the two companies clashed in philosophy, and the powers that be seemed to hate each other.
Long story short, internal turf-wars began, executives squabbled, stocks tumbled, and the two companies never found a way to work as one. After a two-year run, the relationship was dissolved.
Of the many lessons learned here, one of them is this: partner with people and businesses who share a common goal, philosophy and business culture.

When It Comes to Collaboration, Don't Misrepresent Your Skill Set.
When it comes to collaborations, producers and executives will go to great lengths to make music – especially when big money is involved. Case in point?
Just two words: Milli Vanilli. This duo, made up of Robert Pilatus and Fabrice Morvan, soared to the top of the pop charts in the late 1980s (even receiving the Best New Artist Grammy Award in 1989), only to come crashing down in a most public way.
During a live performance for MTV in 1990, the recording to which they were lip syncing skipped. Soon it was revealed that not only were they lip syncing live performances, their voices weren't even the ones on the album!
It was all a ruse, manufactured by a guy named Frank Farian, who didn't feel like the original vocalists were marketable enough. The scandal goes down as one of the most infamous cases of lip-syncing ever.
Lesson learned? Authenticity counts!