A key part of collaborating in Redbooth is understanding tasks. A task is a transparent way for you and your colleagues to see what work needs to be done, by whom, and when. You can quickly give each task an assignee, a start and due date, and even attach files.
Create a task
There are a few different ways in which you can create a task in Redbooth. The quickest way is by clicking on the quick create button in the top right. A small pop-up window will appear. You can then add in the necessary information.
Alternatively, you can quickly create a task within a workspace. Just click on Add a task at the top of a task list and type. You can later enter the task and edit it as required.
Assigning tasks
Enter the name of the member you would like to assign to, or choose from the dropdown list. Get more information here.
Copy a task
You can easily copy a task in Redbooth. Just click on the drop-down arrow in top right of the task and select copy. A new window will pop up: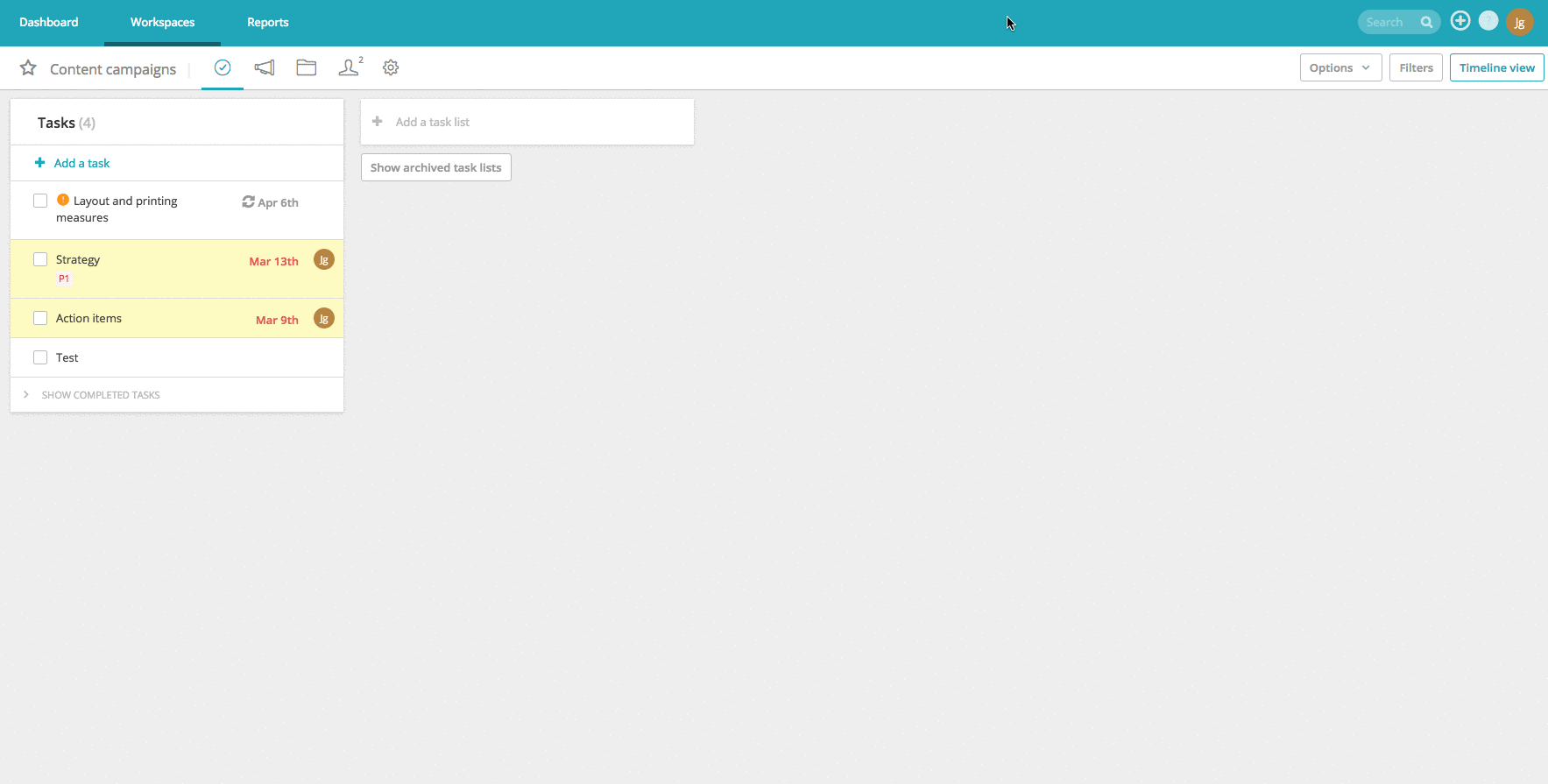 Only subtasks and the description will be copied over, with resolved subtasks automatically being unresolved in the new task.
Move a task
Feel that a task belongs to a different workspace and need to move it? Simply click on the task options and move it to your desired workspace in a matter of seconds.
Start and due dates
You can add both start and due dates to all tasks. By doing so, you have created a task duration. You can always edit the dates or entire duration of the task later. If you only select one date, this will be defined as both the start and the due date. Find out more information here.
Comment on a task
Commenting on a task is very easy, and comments are displayed with the most recent at the top. The comments box comes with a number of formatting options, including emojis. Redbooth uses Markdown as the language to write comments. To access the cheatsheet where you can learn how to format your comments, enter a task a click on the A button to the right of your comment box.
You can discover more emojis to use here.
Delete a task
A task can only be deleted by organization admins or the person who created it. To delete a task, follow the easy steps below:
Open a task.
Click on the down arrow next to the watchers menu.
Click the Delete button.
Click OK to confirm.
A deleted task cannot be recovered, so be sure you are ready to delete it.
Resolve a task
Alternatively, you may want to resolve a task once it has been completed. To resolve a task, just click on the empty box next to a task's title. This can be done from the task list view or within the task itself.
Resolved tasks can be found at the bottom of a task list under SHOW COMPLETED TASKS. You can unresolve a task by clicking on the ticked box, this will send it back to its previous location.
You cannot change the resolved date of a task in Redbooth. For example, if you completed a task on 05/01/2016 but only mark it as resolved on 05/03/2016, then the latter will always display as the resolved date.